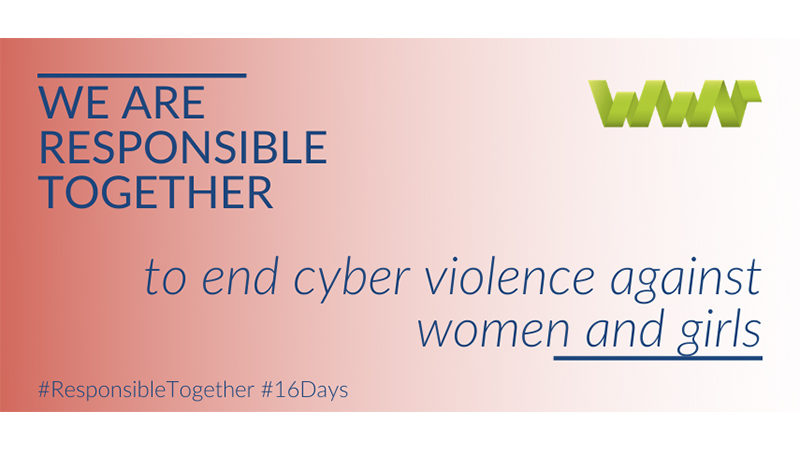 Campaign: #ResponsibleTogether against Cyber Violence
Find out more about the #ResponsibleTogether Campaign 2020: https://www.work-with-perpetrators.eu/campaign-2020
Cyber violence against women and girls is an emerging global problem, with 73% of women worldwide experiencing some form of cyber violence. It has become clear that women and girls are disproportionately targeted by gender-based cyber violence. Additionally, researchers and activists have reported that the coronavirus crisis has exacerbated gender-based cyber violence.
WWP EN Executive Director Alessandra Pauncz stresses the long-lasting, harmful effect of cyber violence: "The effects of cyberviolence on women and girls are devastating, all-consuming, never ending, because they are part of a continuum of violence (offline and cyber) that deprives them of their freedom." Abusive partners use cyber violence to extend their offline abuse and control every aspect of their partner's life. Cyber violence prevents women and girls from accessing the internet, and causes physical, psychological, economic and social harm.
As Christina Jankowski, Senior External Relations Manager at Kaspersky reports: "So far in 2020, we have seen more than 6600 users affected by stalkerware on their mobile phones in Europe. The most affected countries are Germany, Italy and the UK. As this software is used to spy on another person, it has an immense and harmful impact on people's lives."
For these reasons, the European Network for the Work with Perpetrators of Domestic Violence (WWP EN), with support from Kaspersky, is launching the #ResponsibleTogether Campaign on 25 November. Both WWP EN and Kaspersky are founding partners of the Coalition Against Stalkerware.
During the 16 Days of Activism against Gender-Based Violence (25 November – 10 December), WWP EN Member Organisations from across 10 European countries (Albania, Bosnia, Croatia, Finland, Ireland, Italy, Germany, Serbia, Slovakia & Spain) are organising events to raise awareness about cyber violence in intimate relationships, stalkerware, as well as cyber bullying and violence among teenagers. Additionally, trans-European social media campaigns will support the campaign activities in each country.
Cyber violence in intimate relationships is part of coercive-controlling behaviour, an abuse tactic in which perpetrators isolate their partners and make them emotionally dependent. They use assault, threats, intimidation, humiliation and more to instil a constant sense of fear in their victims. Adding stalkerware to the mix is the perfect storm, as it completely inhibits the partner's ability to seek help with her own devices, even just by calling a friend or family member.
However, the foundations for respectful, but also violent interpersonal behaviour is laid in earlier years. That is why it is crucial to address harmful technology-facilitated behaviours with teenagers and youth. Raising awareness of the costs of cyber bullying, sharing intimate pictures and cyber harassment enables teenagers to make kinder, more considerate decisions.
Additionally, Cyber violence against women and girls has not been fully conceptualised, defined or legislated against at the EU level. This must change! EU Member States must find a consensus on what constitutes gender-based cyber violence and how it should be pursued. Law enforcement must then receive the training, resources and mandate to pursue this violence effectively.
Last but not least, the public, as well as professionals in the field must learn about cyber violence and ways of stopping it. Greater awareness will enable victimised women and girls to recognize cyber violence and seek support. Everybody must understand that cyber violence is "real" violence with very serious consequences.
WWP EN is a European network with 64 members from 32 countries. Its work focuses on stopping men's violence and holding them accountable, as well as promoting the Istanbul Convention.
Find out more: https://www.work-with-perpetrators.eu.

Coalition Against Stalkerware Commends FTC's Actions Against SpyFone
Yesterday, the Federal Traded Commission (FTC) in the United Sta...
Read more